The most fun you can have during the holidays is by coming to the party. But if you have a really good excuse for not attending the biggest, ugliest, sweateriest bash of the season— you can still help in different ways to support our favorite charity, Operation Breakthrough!
This year's annual party is scheduled for Friday, December 1st, 2023 at The Truman, located in downtown Kansas City. Tickets are available now to the best holiday party in town. Your ticket to the party includes musical performances, holiday-themed games, costume contests, raffle prizes and more! What are you waiting for? Get your tickets now!
The Ugly Christmas Sweater Party began in 2005 as a small holiday gathering in Brookside hosted by Ramsey Mohsen, Scott Aripoli, and Patrick Perkins. While cleaning up in 2007, we decided to turn all of our hard work into good for others, and raise money for a charity.
When we started our search for that organization, we knew Operation Breakthrough was the right charity to benefit because of the great work they do with kids. During our first visit to OB, we met with the children who benefit from their programs. That was all it took for us to become a supporter. The whole organization is truly amazing in all of its efforts and the impact this has on the local community.
A steering committee of dedicated volunteers helps plan Party and Day festivities every year. The Steering Committee:
Ramsey Mohsen
Scott Aripoli
Kaitlyn Troske
Matthew McHenry
Michael Esselman
Tiffany Bidne
Lindsay Clarke
Eddie Croissant
David Greenwald
Maddy Ibarra
Nic Rusher
Amanda Kovac
Annie Mulvey
Ivette Roberson
Tara Daugherty
We're a group of friends who want to give back to our community with the goal of making a positive impact by donating as much money and toys to Operation Breakthrough as possible. Our vision for the Ugly Christmas Sweater Party and Day is to make it the biggest and best annual holiday fundraiser in Kansas City!
What is the Ugly Christmas Sweater Party you say? It's a super awesome annual ugly sweater costume party that raises money for Operation Breakthrough, and has even been featured on the Travel Channel! It includes open bar, games, raffle, costume contest, Snowball Pong, and much more! But be sure to follow us for updates on this year's party.
Interested in bringing a large group or hosting your company holiday party at our event? Contact us about bulk ticket pricing and corporate options at info@kcsweaterparty.com.
Frequently Asked Questions:
Glad you asked! Here is what to expect at the party:
Dance your jingly heart out!
Strike a pose at the gif-photo booth, then brag about your experience at the party on social media!
Trophies for the top costumes: Ugliest Sweater, Best Couple's Outfit…and more!
Awesome raffle prizes such as autographed Travis Kelce gear. Go Chiefs!
Snowball Pong. Think beer pong meets….Christmas…with a prize for the champion and all of the bragging rights.
VIP tickets include open bar *gasp* which includes select domestic drafts and well liquor (included in your ticket price, just be sure to tip your bartenders) *cheers*.
It's a costume party! So show up proudly wearing your best Ugly Christmas Sweater or favorite holiday costume. We suggest rummaging through your parents closet or making your own. But getting something sweet online or at a store is cool too.
If you don't like open bar access at parties and donating some extra $ to charity, then no, don't do VIP. Does all of the above appeal to you? Great, a VIP Ticket is for you! You can check it out on our tickets page. 
The doors open at 7:00 p.m. for all ticket holders. On the day of the party, you will need to check in at the front doors with your AXS ticket on your phone and a valid ID/drivers license.
The parking lot behind The Truman has event parking available for $10 and street parking is available as well, but we encourage all partygoers to utilize a rideshare service such as Uber or Lyft.
What is "The Day" you say? The Ugly Christmas Sweater Day was created to support Operation Breakthrough's mission to aid children living in poverty in Kansas City's urban core. This Day, which has been officially proclaimed by the Mayor of Kansas City for the past 8 years, encourages local residents, organizations and businesses to donate food, toys, money, time, and cheer during this holiday season.
Ugly Christmas Sweater Day will be on December 2, 2022, but the cause lasts well beyond that. All proceeds will directly benefit Operation Breakthrough. We encourage you to don your finest, most festive ugly apparel and join us in supporting this local cause. In addition to attending the closing party, local businesses, organizations, retailers, and restaurants–large or small–may pick and choose from various options to help support Operation Breakthrough in their own unique way. Follow the link below to learn more about how you can help.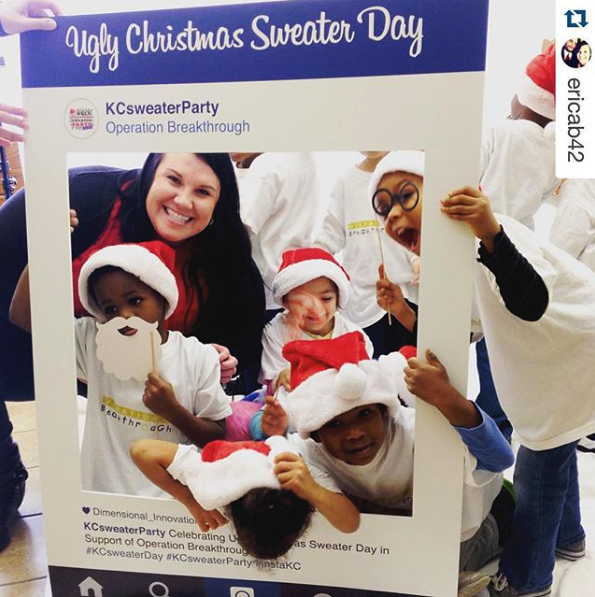 Founded in 1971, Operation Breakthrough is a local organization serving hundreds of children and families from Kansas City's urban core. With less than 50% of government funding, OB relies on donations from the community to open their doors. Their mission is to provide a safe, loving and educational environment for children in poverty and to empower their families through advocacy, emergency aid, and education. From education and therapy to a food pantry and clothing closet, all services are provided at no cost to the families.
For more than two decades Operation Breakthrough has provided Christmas gifts and holiday meals to families in need, with much support from the community. Their program is open to the community in addition to all children enrolled at Operation Breakthrough, reaching over 3,000 children in 2018! The children who receive Christmas aid all come from low-income families. Some are homeless, and many are in foster care because they have been abused or neglected in the past. Nearly all live in single-parent families living off of less than $12,000 annually.
Operation Breakthrough Quick Look! from Lynne Melcher on Vimeo.
More than 80% of the enrolled families at Operation Breakthrough live below federal poverty guidelines, most far below them.

Operation Breakthrough educates, feeds, heals and loves over 700 children daily, ages 6 weeks to 18 years. The center buses an addition 600 students to OB from surrounding schools for hands-on learning during the day, nearly double the number of children Operation Breakthrough reaches each week!

90%+: Number of graduating OB preschoolers who tested 'ready for kindergarten' the past six years, despite the national average of less than 50% for children living in poverty.

Less than 40% of Operation Breakthrough's funding comes from government sources - city, state and federal. Grants from foundations and corporate and individual donations make up the rest.