The Ugly Christmas Sweater Party began in 2005 as a small holiday gathering in Brookside hosted by Ramsey Mohsen, Scott Aripoli, and Patrick Perkins. While cleaning up in 2007, we decided to turn all of our hard work into good for others, and raise money for a charity.
When we started our search for that organization, we knew Operation Breakthrough was the right charity to benefit because of the great work they do with kids. During our first visit to OB, we met with the children who benefit from their programs. That was all it took for us to become a supporter. The whole organization is truly amazing in all of its efforts and the impact this has on the local community.
A steering committee of dedicated volunteers have made time to plan the 2019 Ugly Christmas Sweater Party festivities. Steering Committee:
Tiffany Bidne
Scott Aripoli
Emily Rose
Ramsey Mohsen
Nicole Papageorgiou
Nic Rusher
Megan Smith
Maddy Ibarra
Lindsay Stodden
Kelsey McClelland
Erin Hunninghake
Eddie Croissant
David Greenwald
Ashley Kieffer
Allie McDowell
Olivia Picht
Emily Kovacs

Melanie Hungerford
We're a group of friends who want to give back to our community with the goal of making a positive impact by donating as much money and toys to Operation Breakthrough as possible. Our vision for the Ugly Christmas Sweater Party and Day is to make it the biggest and best annual holiday fundraiser in Kansas City!
What is the Ugly Christmas Party you say? It's a super awesome annual ugly sweater costume party that raises money for Operation Breakthrough, and has even been featured on the Travel Channel! The party has historically been held at Tower Tavern in Martini Corner, but due to increasing demand for tickets, we've had to get creative (including expanding to Brick House last year). For this year's big 15th Annual Ugly Christmas Sweater Party, we're trying out a new location – The Truman in the Crossroads – to make sure everyone can celebrate with us and help us reach our fundraising goals for Operation Breakthrough. The wonderful owners of Tower Tavern and Brick House still want to be involved, and are as excited as we are to see the party grow! Will there still be an open bar you ask? YES! VIP and GA both include an open bar. Will there still be games and prizes? By golly, YES! Dress to impress at a chance to win best dressed, or try your luck at our party favorite: Snowball Pong.
Interested in bringing a large group or hosting your company holiday party at our event? Contact us about bulk ticket pricing and corporate options at info@kcsweaterparty.com.
Frequently Asked Questions:
Glad you asked! Here is what to expect at the party:
Open Bar *gasp* which includes domestic drafts and well liquor (included in your ticket price, just be sure to tip your bartenders) *cheers*.
Dance your jingly heart out listening to DJ Alex Reed dropping the beats.
Strike a pose at the gif-photo booth provided by DJ Alex Reed, then brag about your experience at the party on social media!
Trophies for the top costumes: Ugliest Sweater, Best Couple's Outfit…and more!
Don't have something to wear? You can rent or purchase a sweater at our Rent-A-Sweater Center when you arrive.
Awesome raffle prizes such as an autographed Travis Kelce hat. Go Chiefs!
Snowball Pong. Think beer pong meets….Christmas…with a prize for the champion and all of the bragging rights.
Food will be available through purchase with Tower Tavern and Brick House.
It's a costume party! So show up proudly wearing your best Ugly Christmas Sweater. It's REQUIRED. We suggest rummaging through your parents closet, making your own, or you can rent or purchase a Tipsy Elves sweater from us the night of the party. Sweaters will available for rent or purchase by the entrance.
If you don't like getting into parties an hour early, better booze options, finger food, and donating some extra $ to charity, then no, don't do VIP. Do all of the above appeals to you? Great! Check out our VIP pricing on our tickets page. 
The doors open at 7:00 PM for VIP only, and 8:00 PM for GA. On the day of the party, you will need to check in at the front doors with a valid ID that corresponds with the name you purchased your tickets online. We will have a list of all ticket purchases at the front door to check you in – no need to kill trees and print a ticket or your confirmation!
The parking lot behind The Truman has event parking available for $10 and street parking is available as well, but we encourage all partygoers to utilize a rideshare service such as Uber or Lyft.
What is "The Day" you say? The Ugly Christmas Sweater Day was created to support Operation Breakthrough's mission to aid children living in poverty in Kansas City's urban core. This Day, which has been officially proclaimed by Mayor Sly James for the past 5 years, encourages local residents, organizations and businesses to donate food, toys, money, time, and cheer during this holiday season.
Ugly Christmas Sweater Day coincides with the 15th Annual Ugly Christmas Sweater Party being held on December 6, 2019. All proceeds will directly benefit Operation Breakthrough. We encourage you to don your finest, most festive ugly apparel and join us in supporting this local cause. In addition to attending the closing party, local businesses, organizations, retailers, and restaurants–large or small–may pick and choose from various options to help support Operation Breakthrough in their own unique way. Follow the link below to learn more about how you can help.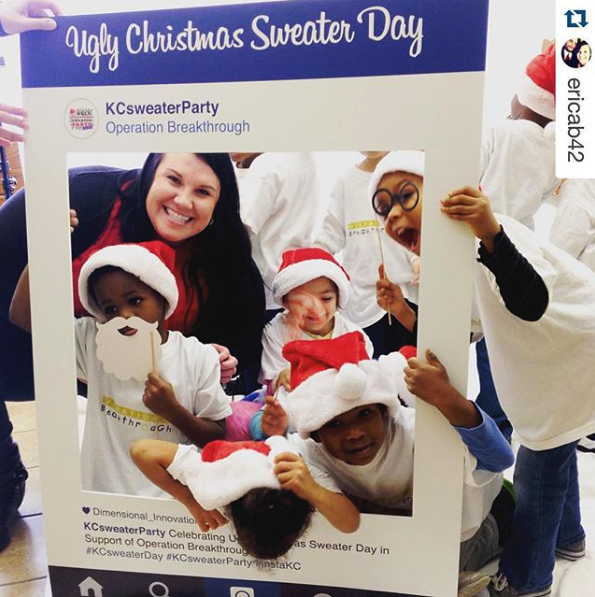 Founded in 1971, Operation Breakthrough is a local organization serving hundreds of children and families from Kansas City's urban core. With less than 50% of government funding, OB relies on donations from the community to open their doors. Their mission is to provide a safe, loving and educational environment for children in poverty and to empower their families through advocacy, emergency aid, and education. From education and therapy to a food pantry and clothing closet, all services are provided at no cost to the families.
For more than two decades Operation Breakthrough has provided Christmas gifts and holiday meals to families in need, with much support from the community. Their program is open to the community in addition to all children enrolled at Operation Breakthrough, reaching over 3,000 children in 2018! The children who receive Christmas aid all come from low-income families. Some are homeless, and many are in foster care because they have been abused or neglected in the past. Nearly all live in single-parent families living off of less than $12,000 annually.
More than 80% of the enrolled families at Operation Breakthrough live below federal poverty guidelines, most far below them.

Less than 40% of Operation Breakthrough's funding comes from government sources - city, state and federal. Grants from foundations and corporate and individual donations make up the rest.

90%+: Number of graduating OB preschoolers who tested 'ready for kindergarten' the past two years, despite the national average of less than 50% for children living in poverty.

Operation Breakthrough educates, feeds, heals and loves over 600 children daily, ages 6 weeks to 14 years. With the recent addition of MakerCity and new partnership with KCPS, OB reaches more than 1,000 children every weekday!